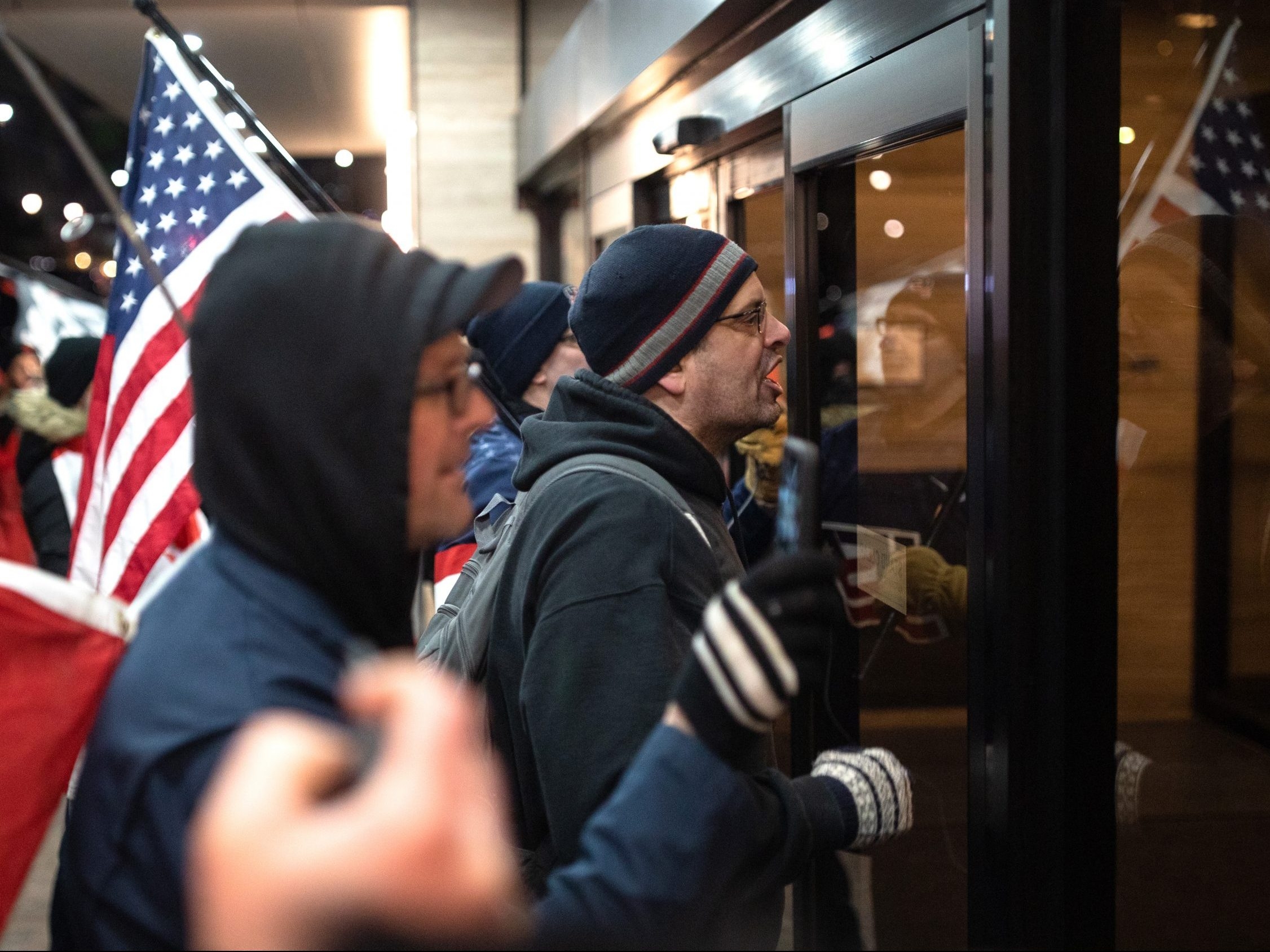 "We made our point," said one protester. "Trudeau and his cabinet got the message." But did they?
Article content
HAMILTON – It's just not every day you see a world leader needing a police escort to cross the street as Prime Minister Justin Trudeau experienced Tuesday night. 
Article content
While they didn't invoke the Emergencies Act, Trudeau and his cabinet were forced to pull out a last-minute emergency play that would have had Angelo Mosca smiling. It was a classic decoy call right out of the Tiger-Cats playbook. But, as often happens, this trick play didn't quite work as smoothly as drawn up.
Article content
On the eve of the one-year anniversary of the "Freedom" protest in Ottawa, this "convoy" in the Hammer may have been smaller but far more hostile. And just like in Ottawa, they were honking their horns. 
The situation that unfolded saw Trudeau and cabinet inside the Bread Bar restaurant on James Street in downtown Hamilton with loud protesters outside waiting for him to head back to the Sheraton Hotel two city blocks away.  
Article content
His RCMP security and Hamilton Police had a plan. 
First was to park vehicles from the prime minister's entourage at the back door, which immediately split the crowd of about 125 into two groups. Most surrounding the cars but some remaining out front. Then came the moving of a dozen police officers heading toward the back parking lot as if Trudeau was about to head out in his motorcade.  
But as Cam Fraser pulled off for the Tabbies in the 1958 Grey Cup, this was a fake punt. Just like that, Trudeau came out the front door and, with police all around him, walked across the street to Jackson Square mall, which is connected to the Sheraton Hotel two blocks away. 
Article content
The old Steeltown bootleg ruse caught most by surprise. 
But not all. Those who didn't get fooled angrily heckled the PM as they jostled with police for the 60 metres from door to door. It was hostile, surreal and profane. Trudeau navigated the pushing and shoving and in true Bernie Faloney and Joe Zuger style found the end zone – but not before giving one of his famous victory smiles to spike the football. 
But it wasn't quite a touchdown. 
A rowdy reception also greeted Trudeau's cabinet led by Deputy Prime Minister Chrystia Freeland, Seamus O'Regan, Harjit Sajjan, Marco Mendicino, Marc Miller, Marci Ien, Karina Gould, Steven Guilbeault, Jean Yves-Duclos and Bill Blair as they took the same route into the mall.
Article content
Hats off have to go to Hamilton Police who really were at their best. No one was hurt and no arrests. They understood the situation and kept their cool. The demonstrators were satisfied as well. 
"We made our point," said one protester. "Trudeau and his cabinet got the message." 
But did they? 
It certainly was not the perfect photo op for a prime minister who is down in the polls as Canada battles inflation and fearing a recession.
But this was just a few protesters in a country of 38 million people.
Maybe it's the fear of cancellation or a frozen bank account that there were not thousands out to shout down Trudeau and his team as we have seen in political protests around the world. This was a boisterous but ultimately small turnout.
Article content
There also seemed to be a split in the group that saw some criticizing Trudeau for declaring the Emergencies Act, the new Bill C11 online censorship bill and vaccine mandates, and those who were carrying "F*** Trudeau" flags, were calling him vulgar names and yelling "traitor," and some just wanting him to know they were there in disapproval. 
Said one woman: "Canadians peacefully protest. These people are controlled opposition. They are shooting fireworks into the crowd. They are being unruly. They are causing a ruckus and that is not what Canadians do. These people are liars. They are not a part of the Freedom Convoy." 
There were no swastikas or Confederacy colours presented, but some were carrying American flags.  
Seems there were many trick plays in the big game everybody wants to win.