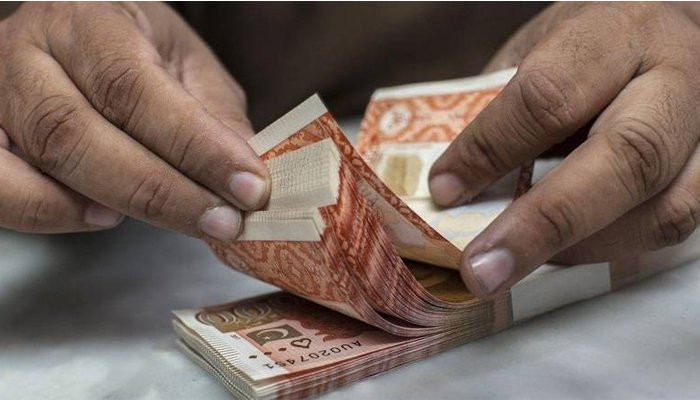 KARACHI:

The Pakistani rupee fell by 5.75% (or Rs14.5) to an all-time low of Rs252.5 against the US dollar in the open market at 11 am on Wednesday.
The slump in the rupee helped the Pakistan Stock Exchange (PSX) jump by 1.87% (or 730 points) to 39,785 points at 11:39 am.
The rupee plunged after currency dealers unanimously decided to stop artificially keeping the rupee overvalued at Rs238 against the greenback for a while.
Topline Securities CEO Muhammad Sohail said that the local currency dropped to Rs252.5 against the greenback at around 11 am today.
Currency dealers had controlled it at Rs238 till Tuesday.
Read MPs to get Rs90b amid economic morass
"Karachi Stock Exchange (KSE) Index is up 700 points after exchange companies decided to quote dollar rate near market signalling the government accepting the demands of the International Monetary Fund (IMF) to let market forces determine rupee-dollar parity," Sohail added.
"We [currency dealers] have unanimously decided to remove the cap on the rupee-dollar exchange rate with effect from Wednesday," Exchange Companies Association of Pakistan President Malik Bostan told the media after chairing a zoom meeting on Tuesday.
Earlier, they voluntarily placed a cap on the exchange rate to supply foreign currency at low prices. The exercise, however, gave birth to the black currency market.
The local currency was available at Rs250-260 per US dollar in the black market. People were buying dollars from the open market at Rs238 and selling in black at Rs250-260 to mint money.
The removal of the cap in the open market would eliminate the black market, increase inflows into formal markets and be available to the public for international travelling, education and medical purposes, Bostan said.