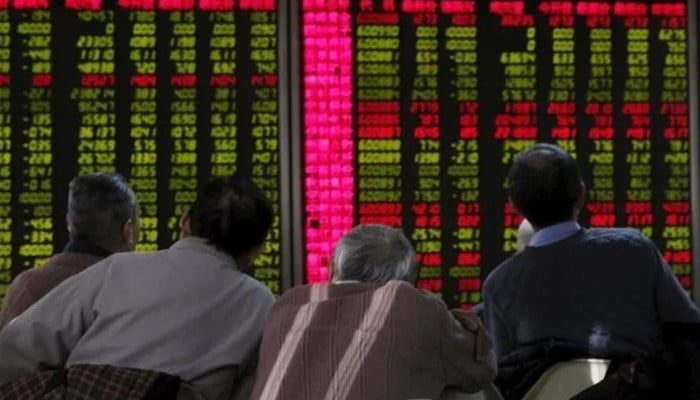 The benchmark index of the Pakistan Stock Exchange (PSX) rallied and gained by more than 1,000 points after the rupee's devaluation in the open and interbank markets.
The benchmark KSE-100 index, as of 11:49 am, gained by 1,076 points with the market at 40,861 points.
Arif Habib Limited's Head of Research Tahir Abbas, commenting on the development, said the local currency's nosedive triggered an upbeat sentiment in the market.
"The driving factor behind the market is the rupee's market-based exchange rate. This has helped clear the uncertainty that was surrounding the investors," he said.
The financial pundit said that the government's actions are assisting the market recovery and enhancing the morale of the investors — who were in a tough condition due to the uncertainty over the IMF programme's revival.
Abbas added that as per the IMF's conditions, a mini-budget is also anticipated within the next eight to 10 days. He added that gas and power tariffs might also notice an upsurge and more taxes could be imposed.
It is important to mention that the Washington-based lender has set tough conditions for the revival of the loan facility which also include a market-based exchange rate.
The dollar rate was artificially maintained at a certain level leaving many experts to believe that the government was managing this. 
However, the exchange firms, earlier this week decided to remove the unofficial cap on the dollar rate in the open market and today the greenback also shot up to an all-time high of Rs240 in the interbank market. 
---
This is a developing story and is being updated with more details.