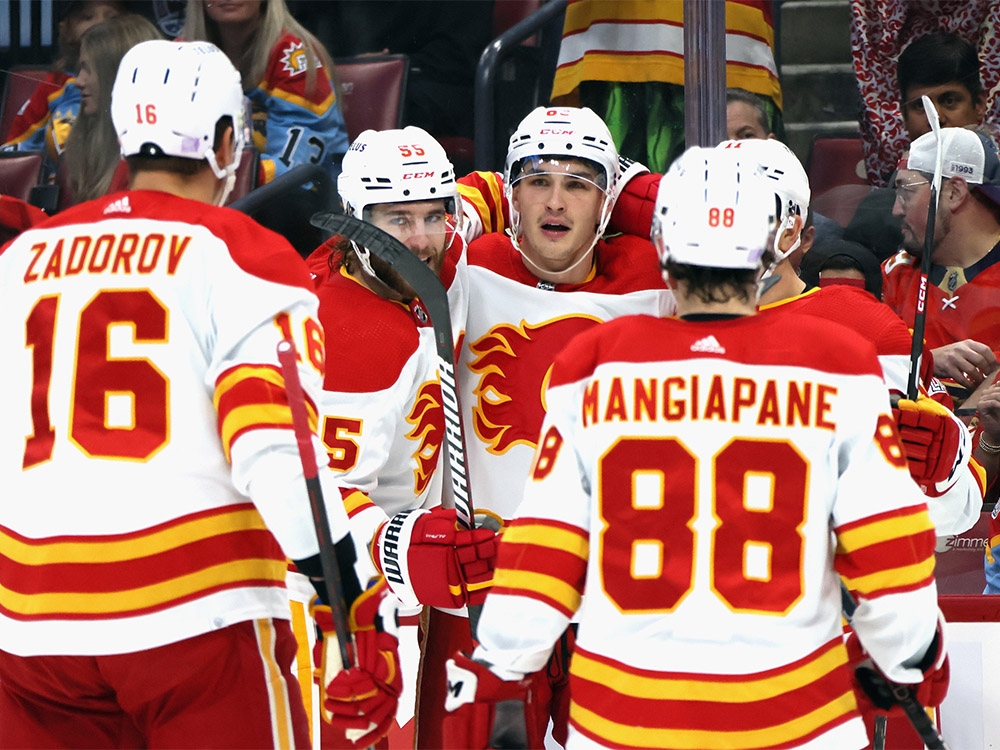 'We need him to score, need him to contribute at both ends of the ice,' Sutter said after Saturday's shootout win in Florida. 'He did a good job. The line has been really good for us'
Article content
PHILADELPHIA — For a while, he couldn't even get in a game.
Article content
Now, he's determined to stay in a groove.
Article content
From spare part to sudden standout, Adam Ruzicka's breakout burst continued with a three-point pop-off Saturday as the Calgary Flames scratched out a 5-4 shootout victory in their much-anticipated matchup with the Florida Panthers.
The brightest spotlight was on the two guys returning to their old home digs — and Jonathan Huberdeau and MacKenzie Weegar were treated to a warm welcome at FLA Live Arena.
Article content
The biggest takeaway, however, was that Ruzicka looks to be right at home as a first-line forward and power-play piece for the Flames.
"But it's still a short amount of time, right?" he stressed. "Three or four games is not enough. Just gotta keep it up until the end of the season like that."
Article content
This season certainly didn't start the way he was hoping. Ruzicka was scratched for 10 of the first 11 dates on the calendar. On the lone night that his number was called, he skated a measly five-and-a-half minutes.
The 23-year-old Slovak — still the youngest dude on Calgary's roster — scored a surprise promotion when Huberdeau was hobbled by a foot injury, plugged into his usual left-wing slot alongside Elias Lindholm and Tyler Toffoli.
While Huberdeau is back in action, Ruzicka remains in that prime perch. Because Darryl Sutter didn't want to mess with a good thing. And besides, there didn't seem to be a whole lot of chemistry there beforehand.
Ruzicka, a natural centre now shifted to the flank, has been engaged. He has been effective on the forecheck. And he's been on an offensive tear. Through six spins as a top-line type, 'Rosy' has piled up eight points — four goals and the same number of helpers. Among Flames, only Lindholm has been more productive over that same span.
Article content
"We need him to score, need him to contribute at both ends of the ice," Sutter said after Saturday's shootout win in Florida, where Ruzicka was saluted as second star after his third multi-point effort of the past two weeks. "He did a good job. The line has been really good for us."
Ruzicka is likely still more fill-in than a fixture as a first-liner — the Flames will eventually want to give Huberdeau, one of the NHL's most skilled setup men, another look beside their best centre — but he's shown enough to at least pause Brad Treliving's search for another winger to work in a top-nine role.
During Saturday's show-off in Sunrise, the 6-foot-4, 215-lb. power-forward-in-progress opened the scoring with a glove-side strike on the man-advantage and later smoked a one-timer through Spencer Knight's five-hole on a set faceoff play. Lindholm, who struggled out of the gate but is once again looking like the two-way ace who was a Selke Trophy finalist in 2021-22, swiped that draw back and his lefty linemate unloaded in a blink.
Article content
In between his two tallies, Ruzicka slammed on the brakes on an offensive rush and spotted a hard-charging Nikita Zadorov, notching the primary assist when 'Big Z' buried a low wrister.
The only bummer, really, for No. 63 was that he failed to capitalize on his turn in the fourth round of the shootout. No biggie, because Rasmus Andersson ended it moments later.
"Last season, I played the majority of the games on the fourth line," reminded Ruzicka, who has so far logged 38 appearances at the NHL level, arguably none better than his performance against the Panthers. "When I get the chance to play on the first line, I can show everybody I can contribute and I can play on the first line. So it means a lot."
Article content
The Flames are now on to the Pennsylvania portion of a marathon six-game trek.
After a day off in the City of Brotherly Love, they'll return to action for Monday's meeting with the Philadelphia Flyers (5 p.m. MT, Sportsnet Flames/Sportsnet 960 The Fan).
On Wednesday, Ruzicka will be up against one of his childhood idols, Evgeni Malkin. He missed out on that opportunity earlier this season. When the Pittsburgh Penguins rolled through Calgary, he was stuck spectating as a scratch.
It doesn't look like that will be the case again anytime soon, although he can't afford to get too cozy. When a reporter mentioned Saturday, after Ruzicka's first two-goal and three-point outburst on the big stage, that he is really making the most of this opportunity, he didn't exactly play along.
"Right now, yeah," he allowed. "But you've gotta be consistent and keep doing it the right way every game. So it doesn't matter."
Twitter: @WesGilbertson