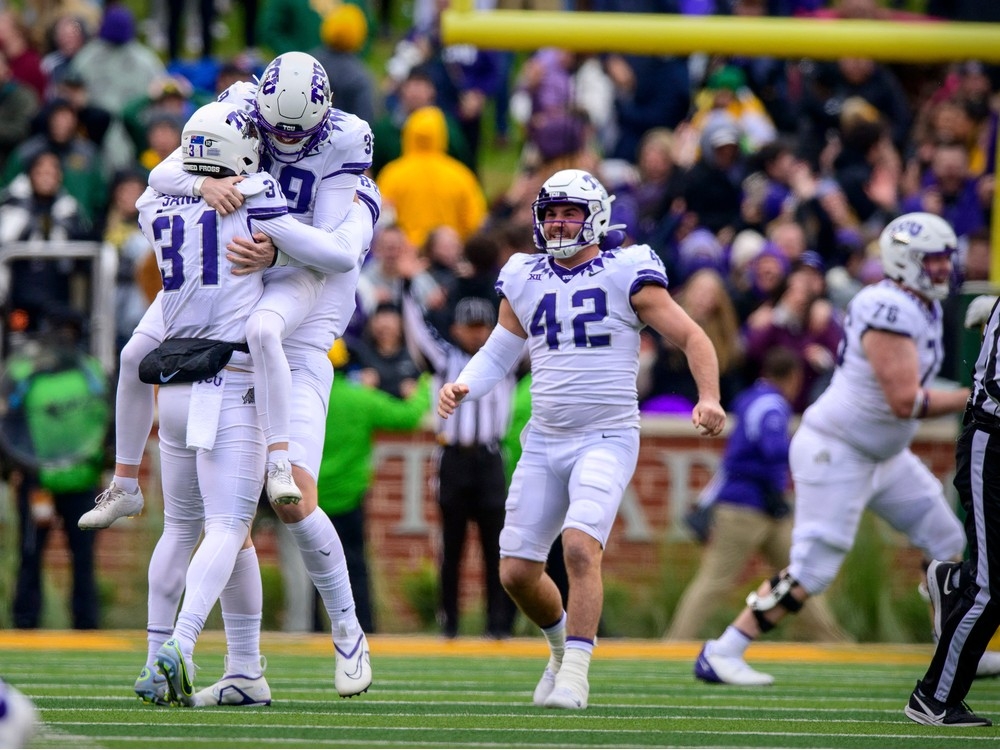 Article content
Jim Harbaugh said it best Saturday. 
Article content
"Unbelievable," said the colourful head coach of Michigan Wolverines after a day that saw both his third-ranked team and the fourth-ranked TCU Horned Frogs wait until the final seconds to kick home victories and stay unbeaten on the NCAA football season.
Article content
Unbelievable, indeed.
With their College Football Playoff hopes on the line, TCU and Michigan hit respective field-goals covering 40 and 35 yards for the winning points in crazy endings of pivotal contests.
Article content
Griffin Kell stroked his winner for TCU (11-0) to edge the host Baylor Bears (6-5) in Waco after a scramble to get the ball off in time just barely beat the buzzer. Frogs head coach Sonny Dykes was playing with fire after running the ball on third down with no time-outs left in the final minute. But as they've done all season, his charges pulled out a victory from the jaws of defeat.
Article content
"Wow … what a ballgame," Dykes told FOX Sports post-game. "Our guys just never quit. They believe in each other. We were well-prepared. We practised that (last-second-bring-on-the-kicking-unit) play every Thursday, and Griffin just came in and knocked it down. Man, what a win!"
Jake Moody punched his through for Michigan (11-0) leaving just a few clicks left on the clock in a 19-17 escape of the pesky Illinois Fighting Illini (7-4) at the Big House in Ann Arbor, Mich.
"That play looks more frantic than it is," insisted Dykes. "I promise you."
The Moody kick capped what had been a battle between the team's respective No. 2s — running backs Chase Brown and Blake Corum — before Corum went out with a knee injury leaving Michigan without its most potent weapon. The Heisman Trophy hopeful had 108 yards on 18 carries before departing from the game just prior to halftime and makes him doubtful for next week's massive Big Ten matchup — and final-four factor — with the No. 2 Ohio State Buckeyes. Meanwhile, Brown, from London, Ont., stayed atop the FBS ranks in rushing yards — 1,442 and counting — with a 140-yard effort for the Illini. 
Article content
But it was Moody the hero on the day with four field-goals, including the capper with nine seconds remaining in regulation.
"He's an iceman — he's got ice-water in his veins," said Harbaugh of his kicker post-game to ESPN. "So does our quarterback J.J. McCarthy (who led Michigan on the eight-play, 35-yard winning drive in the final two minutes). Just so proud of our team."
SECOND & LONG
Ohio State (11-0) nearly had its unbeaten record snapped in a 43-30 barnburner over host Maryland (6-5) that wasn't decided until very late. Whenever you're ready to de-list Ohio State QB C.J. Stroud as a Heisman favourite, let us know. He was pedestrian again in an 18-for-30, 241-yard performance, as the Buckeyes got 146 yards and three TDs on the ground from freshman Dallan Hayden … The other top-four team, No. 1 Georgia (11-0), won a 16-6 tussle with host Kentucky (6-5), which could've been a trap game after it had already clinched a spot in the SEC finale … The trap did spring on No. 5 Tennessee (9-2), as its final-four hopes died, when host South Carolina (7-4) shocked Rocky Top. Out of nowhere, QB Spencer Rattler went 30-of-37 for an eye-popping 438 yards and six TDs in the massive upset.
Article content
THIRD & GOAL
Iowa (7-4) and Minnesota (7-4) met for more than just the old brass spittoon — the trophy handed out annually to the winner of that rivalry — as the Big Ten West title was also on the line. Coming into Saturday, there were 62 different scenarios involving five teams to decide the West winner, with Iowa winning out in 26 of those, and Kirk Ferentz's forces shortened those odds with a 13-10 sneak over host Minny … No. 10 Clemson (10-1) won a 40th straight home game with a 40-10 smash of spiralling Miami (5-6) … No. 20 UCF (8-3) lost its spot atop the AAC after getting sunk by visiting Navy (4-7) 17-14. All 248 yards Navy racked up came along the ground, as Ken Niumatalolo's crew attempted just one pass — that an incompletion … QB Will Howard has picked up where Adrian Martinez left off, leading No. 15 Kansas State (8-3) to within a win of the Big 12 championship game. K-State's 48-31 takedown of host West Virginia (4-7) saw Howard throw for 294 yards on 19-of-27 passing … Elsewhere in day-time top-25 games: No. 8 Alabama (9-2) shut out FCS-side Austin Peay (7-4) 34-0 in Tuscaloosa; No. 10 Penn State (9-2) hammered host Rutgers (4-7) 55-10; No. 13 North Carolina (9-2) was upended by visiting Georgia Tech (5-6) 21-17; No. 18 Notre Dame (7-3) pasted visiting Boston College (3-7) 44-0; No. 19 Florida State (8-3) blew away visiting Louisiana (5-6) 49-17; No. 23 Oregon State (8-3) hammered host Arizona State (3-8) 31-7; No. 24 NC State (7-4) was upset 25-10 by host Louisville (7-4); and No. 25 Cincinnati (9-2) turned back host Temple (3-8) 23-3.
Article content
FOURTH & INCHES
Two late Pac-12 games helped decide the conference championship, as No. 7 USC (10-1) is off to the title tilt — and still in line for the final four — after topping No. 16 UCLA (8-3) in a 48-45 wild night at the Rose Bowl and No. 12 Oregon (8-2) hosted No. 10 Utah (8-2) … Other tilts featuring ranked teams included: No. 6 LSU (9-2) — still with a shot at the CFP — dumping UAB (5-6) 41-10; No. 14 Ole Miss (8-3) getting dumped by host Arkansas (6-5) 42-27; No. 17 Washington (9-2) obliterating visiting Colorado (1-10); and No. 22 Oklahoma State (7-4) losing Bedlam to host Oklahoma (6-5) 28-13 … It's been another tough year for Florida (6-5), which lost to SEC lesser-light Vanderbilt (5-6) 31-24 in Nashville … Heartbreaking day in Charlottesville, Va., where slain Virginia players Devin Chandler, Lavel Davis Jr. and D'Sean Perry were memorialized after they were tragically gunned down by a former teammate on a school bus trip last Sunday.
http://www.twitter.com/ToddSaelhofPM