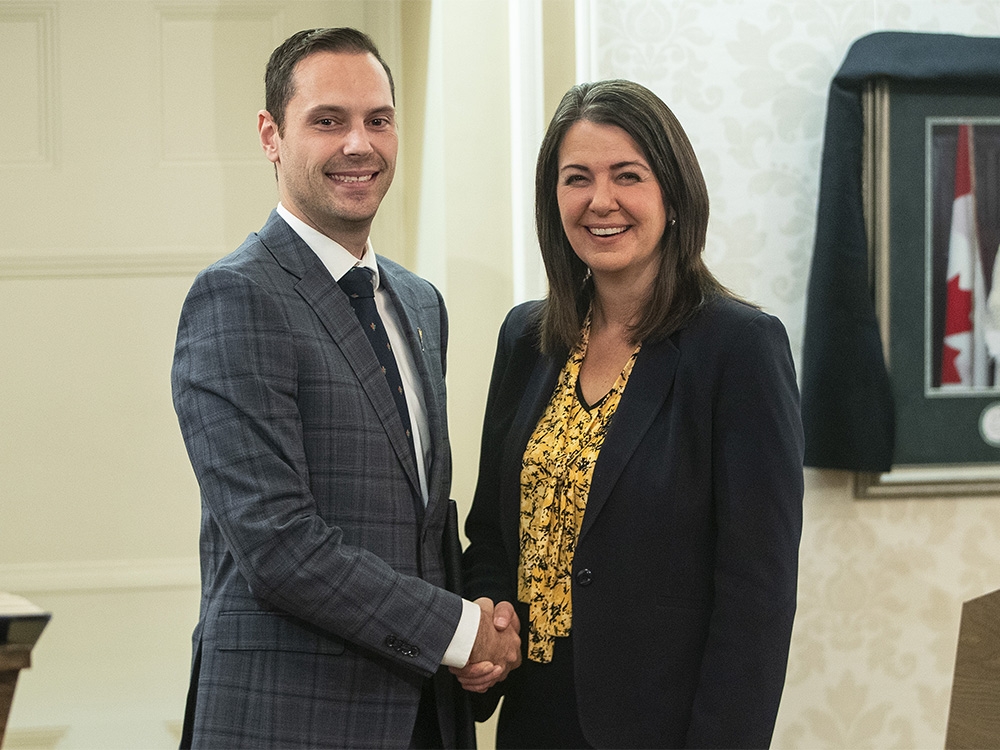 Article content
She's not done yet.
Article content
When Premier Danielle Smith rolled out her $2.4-billion inflation-fighting plan Tuesday she did mention there was much more to do.
Article content
But Smith's sentiment was a single sentence in a televised address of many, many sentences.
The morning after the premier's time on the tube, Matt Jones, Smith's point man on affordability, sits down at the Calgary Food Bank with your scribbler.
Jones is quite clear.
"There will be more," he says.
Jones calls Smith's announcement "an initial package."
"I think what you'll see are individual announcements outside of this package."
Smith has been applauded for her latest move.
But the premier also does get heat from some because folks making under $180,000 a year and with kids score a cheque, while others, like singles and couples without kids making far less dough and struggling to fight off the assaults of inflation, do not.
Article content
For many, when you get up in the neighbourhood of $180,000 a year, even with kids, that's a lot of bread.
In fact, four out of five families in Alberta are getting cheques.
Some reasonable people figure having the high threshold for getting a cheque could be seen as a play to make sure voters in the Calgary suburbs Smith must win in the May election are not pissed off by being left out.
Besides, many of those complaining and seeing themselves getting the short end of the stick are likely voting NDP.
So goes the figuring.
Jones, the guy riding herd on the inflation file for Team Smith, pushes back.
He says the $180,000 cutoff is "a defensible number." It is the same number the province uses for the child-care subsidy.
He says people save with the electricity rebates, the six months of not paying the province's fuel tax at the pump, the changes in the income tax.
Article content
Jones adds children and seniors, the vast majority who also get $600 over six months, were not put first in the pandemic.
"They certainly will be going forward.
"If you wonder where the heart is. That's what I truly believe."
Jones also says he's looking to put together an inflation-busting blueprint, including stuff for right now and down the line.
His timeline for some of this stuff is as soon as he can. He says he is excited to get to work on new plans.
He says Smith is serious about doing more.
Jones says he gets the rising cost of insurance is "a particular concern of Albertans."
NO KIDDING!
NOTE TO SMITH: You are the premier not the CEOs of the big insurance companies. And we are captive. You want to own a vehicle, you must have insurance.
Article content
Alas, Smith's budget boss Travis Toews is no fan of putting a cap on insurance premiums in Alberta.
Well, he isn't the premier either.
Jones, who supported Toews in the UCP leadership race, says he will be "looking at all options to support affordability."
"It's all the art of the possible," says the man who worked as an investment banker before jumping into politics and now represents a suburban southeast Calgary riding.
Article content
Jones speaks of looking at post-secondary education costs and housing costs, including soaring rents where monthly increases can add up to more than the yearly increase in property tax.
Jones says what he's doing is not about the election in May though, all political allegiances aside, money can buy you love.
The affordability minister says Albertans can't wait for relief from inflation until after the election.
"I don't get asked these questions by regular everyday Albertans," says Jones.
"They can see the problem. I feel their pain. I have four kids."
Besides, the provincial government has the money.
On Thursday they'll tell us how many surplus dollars they expect in the provincial coffers.
My cracked calculator figures it's got to be around $12 billion. In other words, massive.
Article content
Why didn't they do Ralph Bucks, where everybody gets a cheque?
"You can't pay everybody's bill," says Jones.
Trevor Tombe, a well-respected economist, would have taken a different route.
"I would probably opt for a simple, temporary, lump-sum cash transfer to every Albertan. It's clean, easy and easy to communicate."
And there would still be dough for extra help to the most vulnerable, such as the severely handicapped.
Mike Pasma heads up the Calgary Food Bank.
The province just announced more dollars for food banks.
What does Pasma want to say to hold the Smith government's feet to the fire, to have them keep their eye on the ball now and in the future so this is not just seen as a vote-buying exercise?
"You can't walk away," he says, as if Smith is with us at the food bank.
"I do believe they have the moral authority to help their constituents because that's why they got into politics. They didn't do it for fame or glory or power. They did it to help people.
"If that's the case, help your people."